Stay connected with home building & remodeling in Northern Virginia. We think that it's important to provide our clients with as much information as possible. From new trends to important questions, we cover it all.
LEARN MORE ABOUT HOME BUILDING & REMODELING
Why Choose Whole House Remodeling?
If you want to up the ante on your kitchen and bath remodeling in Northern, VA, a simple way to do so is to do all repairs and modifications at the same time. This is called a whole house remodel, and it is serious business. Despite the very nature of the remodeling process, today there are still some extreme benefits to choosing an entire remodel in one go. Keeps Design Consistent Keeping design consistent across existing rooms is much more difficult than simply adding a room to a design plan in a large-scale kitchen and bath remodeling in Northern VA. Conversely, people who choose to make the kitchen or bathroom a part of the design process are able to seamlessly integrate all of the elements of the design into those spaces. It is unfortunate, but it is often obvious to homebuyers when a single room has not been included in a remodel, because it sticks out like a sore thumb, it may be much more dated than other rooms, or it is missing key elements of a design scheme that can be found in other areas of the home. Stay Where You Love The old saying "location, location, location" is so timeless because that is one of the most serious elements of any home's value. If you love your location but are less than satisfied by the state of your home, you always have the option of changing your home to better fit your needs and desires. Get What You Want One of the most obvious reasons you would want to do a whole house renovation with home builders in Northern VA, is to get the things you want and need in your home. This level of convenience does not come inexpensively, however, so you should always be prepared to pay your contractors what they are worth. At Craftsman Construction, we approach every kitchen and bath remodeling in Northern, VA, very seriously. We work with designers, architects and experienced construction workers to build a plan and get it executed. Contact us at 540-908-2030 to schedule an appointment. ​
Two Exciting Design Trends for 2017
Kitchens are among some of the most high-traffic areas of any home; each member of the family is likely to spend time there each day. As leading kitchen remodelers serving Northern VA, Craftsman Builds team members are often asked about the latest kitchen design trends. We have rounded up some of the freshest ideas in home remodeling to inspire and excite our clients looking for ideas that can be applied to many different homes. Beautiful Materials Used Together In recent years a mixture of materials has added interest to kitchens both large and small. Marble countertops paired with wood cabinetry, metal cabinetry features paired with tasteful laminate flooring, and other novel combinations have added a great deal of interest to kitchens. This trend continues to gain interest and designers are still finding new combinations for clients. There are many materials that can be successfully used in kitchens, such as: Aluminum and steelCopper and brassWood or faux woodLaminate flooringNatural stoneFaux stoneCeramic tile These materials can be used as primary features or integrated into the small touches that tie a kitchen's design together. Warm Finishes for a Cozy Atmosphere Kitchens have historically been given a very clean look to emphasize a feeling of freshness. While freshness is still a desired mood in kitchen design, the hard lines are being softened with the help of warm finishes. Glossy finishes are giving away to matte finishes and patterns suggesting woodgrain are being used to add visual texture to the space. Plaster is a great material for the application of a warm finish; a lightly brushed application adds just a little bit of variety to the expanse and makes the space feel very inviting. Warm finishes are great for large and small kitchens. Your Partners in Home Building Contact Craftsman Builds today by calling (540) 908-2030 and speak with one of our team members. Tell us more about your remodeling plans; we are here to support your dreams. ​
Hot Home Remodeling Trends For 2017
You may have home improvement on your mind this year. Before you decide what type of project you want to discuss with one of the home remodelers in northern VA, you should take a look at some of the newest design ideas that are getting attention. Whether you want a new aesthetic or better function, you may like some of the latest trends in home renovation. The Future Is Now Home automation is the buzzword for 2017. People are looking for smarter ways to make their homes do some of the work. Some of the more popular features include HVAC systems that you can program from your smart phone, USB outlets built into walls or furniture, and voice recognition security systems. Softer Hardware After a few seasons of brushed nickel and oiled bronze hardware for cabinets and drawers, new metals are making an appearance. Matte finishes have gained popularity, and satin or brushed brass is the new kid on the block. Compared to the shiny brass of the 80's and 90's, this new brass is almost understated. You can also mix finishes and hues for a more modern approach. Love Your Laundry You probably spend more time in your laundry room than you realize, so you can understand why updating that functional space is a hot trend with home remodelers in northern VA. Smarter storage can take away some of the clutter, while better lighting can brighten up a dreary area and make it welcoming. Variation of a Theme White never seems to go out of style because it is so clean and versatile. In 2017, white meets off-white, cream and ecru get together, eggshell and picket fence become friends. Different shades of white add a softness and complexity to any space updated by home remodelers in northern VA. Are these trends getting you excited? If so, you should give the experts at Craftsman Construction a call at (540) 908-2030 for a consultation for your home improvement project. ​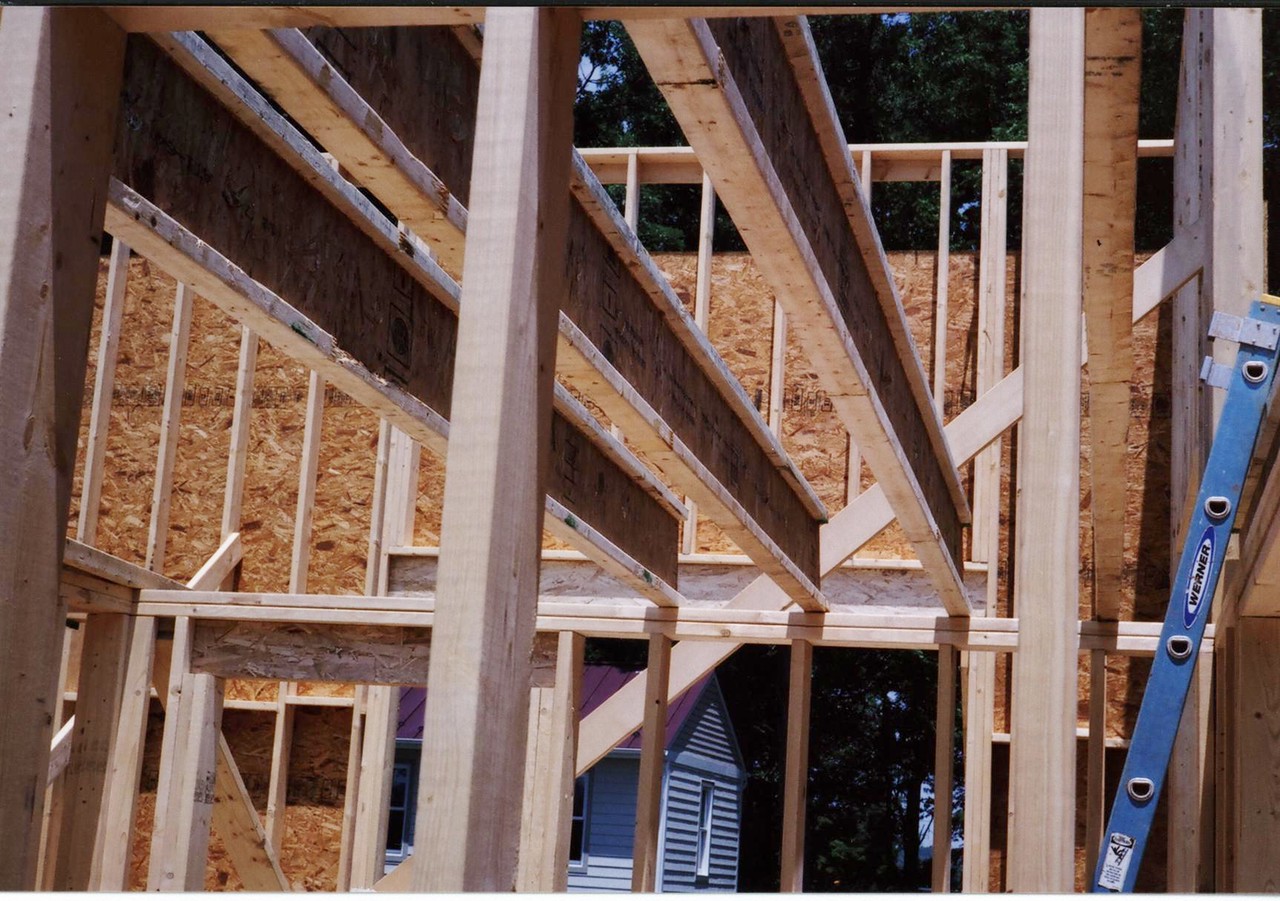 How Much Per Square Foot Do You Charge?
I am asked all the time how much do you charge per Square Foot to build a house. This is a strange question. Besides being a totally irrelevant measure of cost, what do you include in the S.F. Calculation? Some builders include the garage in the cost, some include the basement in the cost and some say it is the S.F. of conditioned space, (does conditioned space include the basement?) Asking how much it cost to build a house per S.F. is like asking the car dealer how much does his car cost per pound. Does it cost the same per pound to build a Mercedes as it does for a Honda? Of course not. A house is not a commodity item. If 10 builders built the same house from the same set of plans, you would end up with 10 different quality homes. Each builder would be motivated by different desires. Some builders want to build the most energy efficient house, some want to show off their craftsmanship, some will insist on using only the best materials, and some will be motivated by greed, doing the least and using the cheapest materials. The take away here is, THERE ARE NO TWO HOUSES ALIKE One of my favorite quotes is: "There is hardly anything in the world that someone cannot make a little worse and sell a little cheaper, and the people who consider price alone are that person's lawful prey. It's unwise to pay too much, but it's worse to pay too little. When you pay too much, you lose a little money — that is all. When you pay too little, you sometimes lose everything, because the thing you bought was incapable of doing the thing it was bought to do. The common law of business balance prohibits paying a little and getting a lot — it can't be done. If you deal with the lowest bidder, it is well to add something for the risk you run, and if you do that you will have enough to pay for something better." - John Ruskin This quote talks of the folly of choosing the lowest cost as the best way to make a purchase decision. At Craftsman Construction Our Pricing Is Based On: On site supervision during the whole projectUsing the best materials available for their intended purposeUsing best industry installation practicesUsing Skilled craftsmanUsing top notch highly skilled trade partnersHaving complete paperwork system in placeHaving the latest tools and equipment to perform the work24-7 customer portal for clientAccreditations from national organizationsMembership in the National Association of Home BuildersFinancially Stable OrganizationWork until the project is complete Getting back to S.F. pricing. Some professions use this for their purposes. Bankers, Realtors and Architects can use it for rough budgeting or for comparison purposes. Using the car analogy again: You want a new car, what do all cars have in common 4 tiresSteering wheelBrakesMotor Why does one car cost more than another? They all have the same things in common. A Lexus certainly cost more than a Chevy, yet they are both cars with the same basic things in common. People understand that all the fancy features on the Lexus cost more than the cheap vinyl and plastic on the Chevy, so why would a house not be any different. A custom gourmet kitchen with professional stainless steel appliance will cost more than a builder grade kitchen with big box store appliances. Are these two kitchens the same cost per S.F.???? This is why you cannot accurately price out a house by the S.F. We can give you a SWAG (scientific wild ass guess) based on S.F. but it is just that a guess. Pre-Project Consultation with Craftsman Construction A lot of people are surprised when we explain to them that the main purpose of our first visit is not to get them to sign a contract that day, as is the industry practice. Rather we are here to see if there is a good match between you and Craftsman Construction. Why you ask? Because not everyone is interested in high quality design and construction services, and the value they deliver. We find that it is important that the client and contractor click, as this is the foundation for a great building experience. At our first meeting, we focus on understanding the problems that have driven you to consider building or remodeling. We will go over your ideas for solving the problems that your home has presented. Maybe you need an extra bedroom for your growing family, or you always wanted a designer master suite. Whatever your dreams are we will help you find a solution. Since we stay on top of the latest product releases, our designers can suggest products or ideas that you might have never heard of. In the end, we will turn your house into the home you always wanted.We will discuss your budget, and determine if it is reasonable for the project you have in mind. First time remodelers find that remodeling is usually more expensive than they thought, but we can help you adjust the scope of your project and value engineer it, to help fit within your budget.We will go over the design build process, and explain how our management system helps keep everything running smoothly. All communication with our clients, subcontractors and venders is tracked by job code, as well as contract preparation, change orders, and billing. Our front office software is one of the best in the business. Our field personnel carry laptop computers and digital cameras that can link back to the office thru our wireless carrier. ​
5 Questions To Ask Your New Home Builder
When you are ready to build your dream home, you should trust a new home builder in northern VA to share your vision. How do you know if your builder can work with you? You should ask lots of questions and check references before you commit to any major project. These five questions are a good starting place for you to find a good fit with a custom home builder. 1 . How long have you been building in the community? An established home builder may be familiar with the local building codes and necessary permits and may even have a good working relationship with inspectors and other officials. With a network of community support, your project can move along smoothly. 2 . What's the timeline? You want a new home builder in northern VA who is committed to doing the job right, but you also want someone who can move a project along. Find out how your builder determines and sticks to deadlines. You may want to ask for references to see what other clients have to say. 3 . How flexible are you? It would be a rare project that did not have any change orders. You may decide to go in a different direction or add to your original design, and home builders should anticipate those requests. You should understand how your contractor handles any changes you make during your project. 4 . Who is my point person? Accountability is a big issue when it comes to custom homes. A builder should either be the contact person or assign a project manager who can share updates with you and answer any questions you may have from start to finish. 5 . Can you explain your building techniques? Today's homeowner may be looking for eco-friendly construction or artisan craftsmanship. You should clarify what certifications, knowledge of materials, and other expertise your new home builder in northern VA has.Your contractor should be open and willing to discuss your concerns to make sure you comfortable working together. You can contact Craftsman Construction at (540) 908-2030 with any questions or to schedule a consultation for your custom home build. Jerry Jackness, President Craftsman Construction ​
Why Are Contractors Prices So Different?
Most contractors and remodelers are sales organizations. These companies are what I call order takers. They come to your house sell you a project at a fantastic price and go back to the office, never to set foot on your project until it is time to collect a check. The salesman that sold you the job will make some phone calls to the different trades and schedule them to come to your house and perform their work. I had put a bid in on a nice kitchen remodel project. After reviewing the bid with the client, he wanted to know why we were more expensive than the other contractors. I proceeded to tell him that one of the reasons we charge more is that there would be an onsite supervisor every day that we worked on his project. He looked at me and said you mean I don't have to tell the electrician where I want the outlets or the plumber where the sink is going. I said no, that is our job to make sure everything is in its right place and built to the specifications you paid for. He proceeded to tell me the last time he had hired a contractor to remodel his house he had to tell all the subcontractors where everything went. After explaining our role as supervisor and project coordinator the client was more than willing to pay the higher price. You see he saw the value that this brought to the project. With onsite supervision, there is always someone on your site that has the whole picture of what is supposed to happen. This person is also in charge of quality control. Making sure all the trades perform their task to industry standards or better. His job is to make sure you get what you pay for, not pay for what you get. Jerry Jackness, President Craftsman Construction ​
Paying For That Project Twice
I was installing a bathtub a couple of months ago that a homeowner had picked out at the local big box store. When the owner arrived with the tub we went out to unload it. I remember thinking man this is a really light tub. Upon bringing it inside the house and unpacking it I noticed a large crack in the side of the tub. We brought this to the owner's attention, who promptly loaded it back into his truck to return it to the store. A couple hours later he returned with the new tub that we promptly unpacked, only to discover that it too was cracked. At this point I told the owner that we could not install any tubs provided by him. You see there is a large cost in labor just sitting around waiting for a tub that wasn't broken. I told him I would return tomorrow with a tub from my supply house that was of good quality that I knew we could install on the first try. You see you always get what you pay for. The lightweight tub was of such low quality, it couldn't even survive the trip from the manufacturer to the store, then to the project. Imagine if this tub would have arrived without being cracked and we had installed it. Then the tile man installed the ceramic tile. How long do you think it would have taken for someone to drop something in the tub and crack it? What would have been the cost to tear out all the tile and waterproofing to remove the tub and replace it? It had always been company policy that we don't warrant owner supplied materials. Since this project, we have modified our policy to state that we also don't install owner supplied materials. This project reminds me of my favorite quote by John Ruskin: "There is nothing in the world that some man cannot make a little worse and sell a little cheaper, and he who considers price only is that man's lawful prey." At Craftsman Construction, we will always steer clear of the inferior products on the market and help you make smart decisions about your project. This will add value to your home without having to do it twice. ​
Contracts are a necessary evil of doing business. Some clients are put off by long contracts. They would like to act with a handshake or minimal paper work. I try to tell people that the contract is to protect them as well as protect us. When I say this, they seem very skeptical. A well-drawn up contract spells out both the client's duties as well as the contractors. I just returned from the National Association of Home Builders convention where I took several classes, one of them on contracts and law. Simply put, a contract is an agreement between two or more persons to do or refrain from doing something. To create a binding contract there must be an offer, acceptance of that offer and value or consideration flowing to each party. A well written contract will manage expectations, reduce liability and allocate responsibilities. A contract to remodel is slightly different than a contract to build a new home. For one thing, a remodeling contract will have a hidden conditions clause stating the price for the work is based on what the contractor can see, not what is hidden behind walls. A well written contract will have at least the following items: Names and addresses of all partiesA detailed scope of workStipulated price for the workDate of commencement and substantial completionChange order clauseIf remodeling a concealed condition clauseAn exclusion clauseAn allowance clause if applicableA payment scheduleConflict resolution clauseLien release clauseInsurance ClauseWarranty Clause Other items that should go along with the contract and be referenced in the contract are: Any drawings pertaining to the work.If a large job, a separate scope of work sheetA list of products and part numbers (such as what brand refrigerator and what model)A nationally recognized set of construction standards such as the RESIDENTIAL CONSTRUCTION PERFORMANCE GUIDELINES. This publication is put out by the National Association of Home Builders. This set of guidelines goes into great detail of what is acceptable construction tolerances and workmanship. These guidelines help the homeowner understand the construction process and help avoid disputes by having a reference standard.An allowance statement. This sheet should specify all allowance items and their associated cost. Sometimes in construction the project will start, but not all the material selections will have been made. An example might be a chandelier for the living room. The contractor will assign a dollar amount to this item at the time of contract signing. It is up to the homeowner to pick out the item within the assigned allowance amount, or pay the difference if they pick out a more expensive item. We at Craftsman Construction strive to have a great customer experience and a great customer experience starts with a great contract, that sets the expectations of all parties involved. Jerry Jackness, President Craftsman Construction​
Should You Remodel or Build?
Homeowners are faced with tough choices. Should they buy an existing house and have one of the skilled home remodelers in northern VA redo it? Should they go custom and build the house of their dreams? The best place to start is by thinking about what you want and what factors can influence your decision. That way, you can make an informed decision that is best for your family. Time Line Northern Virginia custom home builders can give you an amazing home, but it may not be when you need it. Buying a house on the market and remodeling may be a faster option for you, especially if that house does not require a major overhaul. Some homeowners may get those improvement projects out of the way before their move date to make their home turnkey ready. Home remodelers in northern VA can help you determine what should be done before you move in as well as what can be done while you are in the home. Wish List Do you want better energy efficiency? Are you looking for more privacy? Are you interested in how the latest technology can make your home smarter? Knowing what you want can also help you narrow down custom home builders who are experienced with what features are important to you. Decide what you are looking for before you talk to home remodelers in northern VA to see if you can accomplish your goals in a current home or if you would better off with a new build. The Bottom Line You may want to give some thought to your budget as well. Remodeling can be a good option, but if the home you choose needs a tremendous amount of work to bring it up to code, you may be better off going with a custom build. Craftsman Construction can help with your decision process. Give us a call at (540)908-2030 for a consultation, and our professionals can go over your options for remodeling and custom building. ​